My Milk Will Go, Our Love Will Grow
by Jessica Elder, LMSW, LCSW-NY
Illustrated by Sheila Fein
Publisher: Heart Words Press
Book Description
What could toddlers be thinking and feeling as they wean from breastfeeding? Depending on age and development, some might not be able to express what they think and feel with words. In My Milk Will Go, Our Love Will Grow, we hear a toddler's questions and feelings during an honest conversation between mother and child. This book uses rhyme, short sentences, and beautiful illustrations to convey a message of love and reassurance as the child learns that mother will still nurture and meet emotional needs. It can help mothers talk about weaning while also helping toddlers acknowledge their feelings and understand the transition. This book will be a special keepsake for both mothers and their children, showing the beauty of the nursing relationship.
This weaning book uses rhyme in short and simple sentences designed to maintain the focus of young toddlers. It can help with both day and nighttime weaning. I hope it will help parents start a conversation and find a way to sensitively and emphatically address this transition.
The illustrations by Sheila Fein are beautiful. We both shared our thoughts and visions for the illustrations and collaborated closely throughout the entire process. Each picture was thought out carefully to portray real moments I've had with my children. Every detail was discussed, including facial expressions and the emotions elicited by each picture.
   
TESTIMONIALS
Read Reviews by My Readers
"Some children can be hesitant to transition away from breastfeeding, but the presentation provides a direct yet gentle approach to a sensitive subject for both the children and mothers. In addition to the heart-warming message of the book, the artwork is amazing. 4 out of 4 stars."
"Weaning is a time filled with mixed emotions for both mother and child. This book beautifully articulates these feelings through poetry and illustration. It helps the child understand what weaning means and how the mother-child bond continues, even when breastfeeding is no longer a part of their routine. The perfect read for the weaning child."
"Weaning shouldn't be rushed, and it should be handled gently and with respect for the child's feelings. Jessica Elder understands how important this process is, and provides parents with a lovely tool to open discussion about how weaning will happen – and how life will happily continue afterward. She identifies some of the emotions the child may be feeling and opens a door for questions and communication."
"This wonderful book for parents and their toddlers addresses the psychological aspects of weaning in an age appropriate, fun way, with beautiful words and colorful illustrations."
"Breastfeeding mothers from generations past and those who recently experienced the weaning process with their own babies will wish they had had a book like this to guide them in explaining to and supporting their children through this often-delicate process. Thus, Elder's book is not only timely but also an essential read for today's young mothers."
"Jessica Elder is a mother who breastfed her children and has traveled the weaning journey. A mother and toddler can read this book together, endless times as they begin the weaning journey together."
The Story Behind My Milk Will Go, Our Love Will Grow
Before becoming a nursing mother I did not truly understand everything a baby gained through the nursing relationship. I did not know that nursing would comfort every fear, pain, worry, and emotion. I later learned that nursing was more than milk and comfort… it was also communication. When I became a nursing mother, I realized that babies not only want to nurse when they are thirsty and hungry, but also when they are thinking: I love you, I miss you, I want to be with you, I need you, I'm scared, I'm anxious, I'm tired, I want to feel safe. To a baby, nursing can be a mother's way of responding and saying, "I hear you. I'm here for you. I love you." Of course nursing is not the only way a mother can meet these needs, but I am referring to my experience as a mother who was able to nurse on demand.
While mother and toddler can continue nursing for as long as they feel comfortable, many mothers decide to initiate complete weaning for a variety of personal reasons. I had to initiate complete weaning due to subsequent pregnancies. While I was able to continue nursing my young toddler for several months into my pregnancy, I was very sick and sleep deprived. I eventually decided it was best for me to fully wean him due to continued nausea and exhaustion.
When I was preparing to stop nursing, I wished for a book to help me communicate with my toddler. While I did purchase a couple of sweet weaning books, I did not find a book that was the right fit for our personal situation. I wanted a book that combined all of the features I hoped for. Ideally, I wanted a book written in rhyme that could address both day and nighttime weaning while maintaining a young toddler's attention. My son adored books and I believed that the right book could have been a helpful tool.
Fortunately, I found some breastfeeding resources that guided me on gentle weaning and I was able to fully wean my son when he was 21 months old. As I began nursing my second baby boy, I thought about the nursing relationship and how I might have to initiate weaning again at some point (I later did have to wean him at 22 months due to another pregnancy). I thought about everything I wish I would have said to my first born son during the weaning process. This inspired me to write my book. I felt such a strong sense of inspiration and motivation- the words poured out from my heart. Within months I finished the book and decided I wanted to share it with other moms.
My pregnancy and the premature birth of my third child put a big delay on my book. It wasn't until 2019 that I finally decided to move forward and work toward publishing this book I wrote back in 2016. I know there is a need for this type of book among nursing mothers and I think it is a sweet representation of the nursing relationship. It is a book for toddlers to read both during and after weaning, and also a special keepsake for any mother who has nursed a baby.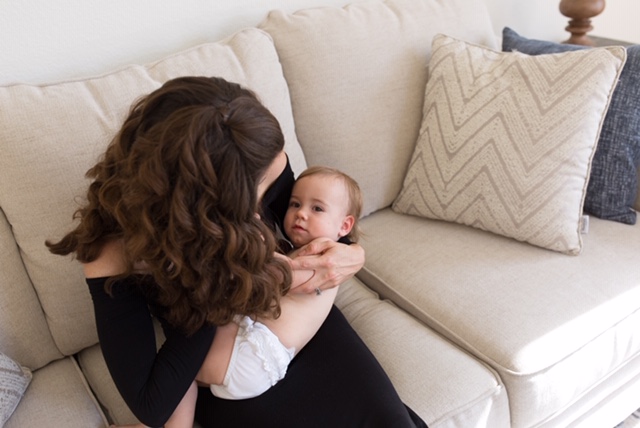 Breastfeeding and Weaning Resources
My book was written to help parents communicate with their toddlers about weaning. The conversation within the book can guide parents as they prepare toddlers for this transition in a sensitive manner, and provide them with answers to questions they may have around the transition. Here I have provided some of my favorite gentle weaning information and techniques to further assist you throughout nursing and weaning. In addition to listing some of the tips, I added comments about my personal experience following the tips.